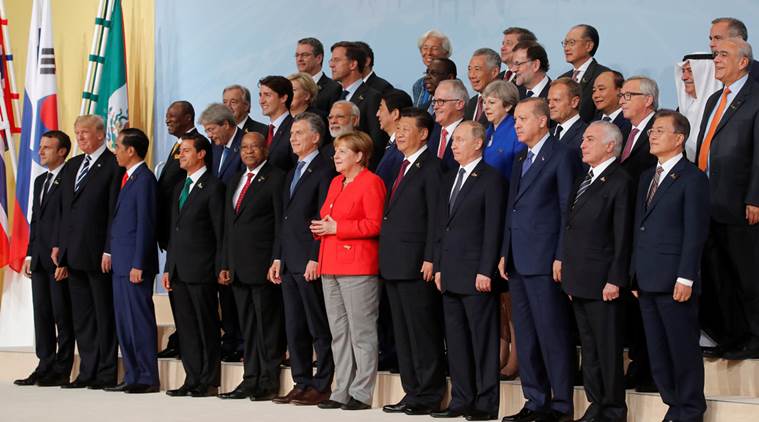 Taken the morning of July 7, this photo captures a pivotal gathering of the G20 leaders, the key drivers of the international economy. This is, of course, a noteworthy image, but not just because of the striking concentration of global power and authority in a single frame. There is something amiss in this group - and it is revealed in the sea of suits, ties, and balding heads that compose this photograph.
This week, German Chancellor Angela Merkel (in red) hosts the members of the G20 summit in Hamburg to discuss international trade, market regulation, and the gravest of global conflicts. Since its crucial role in restoring stability after the 2008 financial crisis, the G20 has served as the linchpin of global economic cooperation. The decisions made during this summit affect nearly every person in the world - yet, only four women are privy to the discussion. Chancellor Merkel and British Prime Minister Theresa May are the only two official participants, while Prime Minister Erna Solberg of Norway and IMF Managing Director Christine Lagarde attend as invited guests. None of these women are of color.
There are clear problems with the underrepresentation of women in a group that tackles such vast issues as the functioning of the entire world's economy. This is a contentious topic, which women's distinct leadership style can help navigate. Studies show that women leaders tend to prefer "consensus-building" strategies, which are essential in a room of the world's most powerful and opinionated. According to former U.N. Secretary-General Kofi Annan, women leaders are "instrumental in building bridges rather than walls." The international community could surely use more of the former and fewer of the latter.
Setting aside the benefits women bring to the negotiating table, they deserve more seats simply because the outcomes of the discussion will impact them directly, especially this year. Included in the 2017 summit agenda are women's rights and economic empowerment, refugees, and the environment. The paradox of a room of men disputing women's rights is an egregious but age-old irony, but the refugee crisis and climate change are largely uncharted territory. Although these issues may seem less directly connected with womanhood, recent research indicates otherwise. The plight of the refugee today is often synonymous with that of the mother, and its discussion demands a woman's perspective. And with regards to sustainable development and the environment, studies show that women are more sensitive to resource depletion and have historically championed environmental causes (eg. The Green Belt Movement in Kenya).  
Viable solutions to these issues must represent the views of the women they affect; yet, several of the G20 nations have never even had a woman representative, including Turkey, Saudi Arabia, and the United States. This trend (and a series of male-dominated group photos) speaks to the urgent need for structural reforms that promote women's leadership both across the world and at home.