1960-1989
1960-1989
1964

First Woman Running for President at a Major Party Convention
Senator Margaret Chase Smith ran for president in 1964. Though Smith was not the first woman to run for president, she was the first to have her name placed in nomination for president at a major political party's convention. Smith was on the ballot in several states across the country, including Illinois, where she received 25% of the vote. She eventually lost the nomination to Senator Barry Goldwater.
1964
First Congresswoman of Color
In 1964, Patsy Mink became the first woman of color and the first Asian American woman elected to the U.S. House of Representatives. She went on to serve for a total of twelve terms, representing Hawaii's initial at-large district and then Hawaii's second district until her death in 2002.
Mink is most well known for being one of the principal authors of Title IX, as well as the first comprehensive Early Childhood Education Act and the Women's Educational Equity Act. Mink also served as Assistant Secretary of State for Oceans and International Environmental and Scientific Affairs after her first three terms in Congress.
1965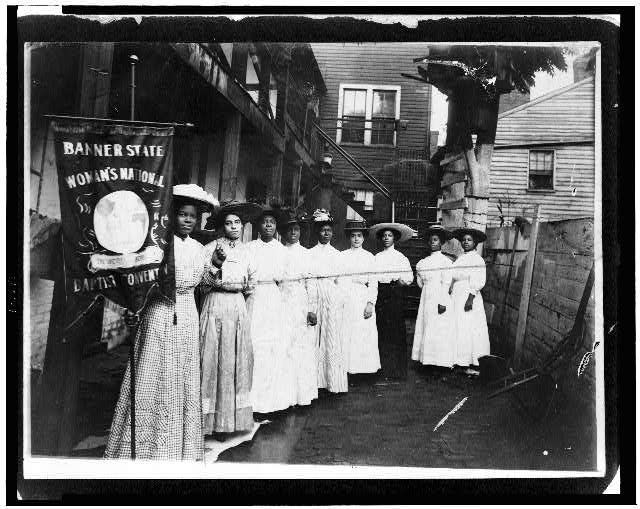 The Voting Rights Act Is Passed
In 1965, The Voting Rights Act was passed, expanding and protecting the suffrage of women of color, especially black women. While the 19th Amendment legally allowed black women to vote, local legislation such as Jim Crow laws and social repercussions often deterred and prevented black women from voting. 
1968
First African American Congresswoman
Shirley Chisholm's career began in education. After graduating from Brooklyn College and Columbia University, Chisholm worked as a teacher. Soon she was the director of the Hamilton-Madison Child Care Center and later an educational consultant to the Bureau of Child Welfare in New York. She successfully ran for Congress in 1969, becoming the first black congresswoman, and served as a Democratic representative for New York for seven terms. Her career in Congress was dedicated to education, and she served in the Education and Labor Committee. Chisholm was also a founding member of the Congressional Black Caucus.
1972

Women of Color Running for President
"Unbought and Unbossed" was Shirley Chisholm's slogan when she campaigned for the Democratic presidential nomination in 1972. She was the first woman seeking the Democratic nomination and also the first African American who tried to become the presidential candidate for a major party. She participated in 12 primaries and went all the way to the Democratic National Convention where she won 152 votes, but lost to George McGovern. Chisholm died in 2005, and the New York Times remembered her as an "outspoken politician who shattered racial and gender barriers as she became a national symbol of liberal politics."
1973
First Person to Give Birth While in Congress
In 1973, Yvonne Brathwaite Burke, the first African-American woman to represent the West Coast in Congress, also became the first U.S. Congresswoman to give birth while serving in congress. Since then, only eight other representatives - and one senator - have given birth while in office. Only two women, Cathy McMorris Rodgers and Jaime Herrera Beutler (both from Washington State) have had more than one child during their time in the House of Representatives.
1977
First African American Woman Appointed to Serve in a Presidential Cabinet
Patricia Roberts Harris was the first African American woman appointed to serve in a presidential cabinet position. She was also the first African American woman to serve as Ambassador. She was appointed by President Carter as the Secretary of Housing and Urban Development and served in this role for two years before being appointed as Secretary of Health and Human Services. 
1981
First Woman Supreme Court Justice
In 1981, President Reagan nominated Sandra Day O'Connor to replace Potter Stewart as Associate Justice of the Supreme Court. Although her nomination was originally opposed by pro-life and religious groups, who worried she should not rule in favor of overturning Roe vs. Wade (1973), she was eventually confirmed by a 99-0 vote in the Senate. While she was a conservative jurist, siding with the conservative justices in the majority of cases before her, many of her decisions were praised for being both narrow and moderate. She retired in 2006.
1984
First Woman Vice Presidential Nominee
In 1984, Rep. Geraldine Ferraro became the first woman vice presidential nominee of a major party. Her running mate was Walter F. Mondale, who ran against incumbent Ronald Reagan. Geraldine Ferraro was born in Newburgh, NY in 1935. She graduated with a degree in English from Marymount College and received a law degree from Fordham Law School in 1960. Before being elected to Congress, Ferraro worked for the Queens County Women's Bar Association and was a Queen's criminal prosecutor. She served three terms in Congress.
1988
First Latina Congresswoman
In 1988, Ileana Ros-Lehtinen became the first Latina and first Cuban-American to be elected to Congress. She is currently the most senior Republican woman in the U.S. House of Representatives. Before becoming involved in politics, Ros-Lehtinen was a teacher, having graduated with a B.A. in education and M.A. in educational leadership from Florida International University, followed by a Ph.D. in Higher Education from Miami University. In Congress, Ros-Lehtinen served a term as the chair of the Committee on Foreign Affairs.